Leadership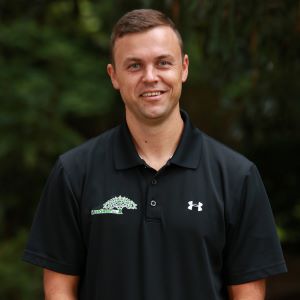 Kyle Narsavage, President & Owner
Kyle has more than 25 years of experience in the landscaping industry. Kyle has been the leader of GreenSweep since the company's modest beginnings when he and his brother were mowing lawns in their neighborhood. His knowledge of the industry has continued to develop through his years at the helm of GreenSweep where he's been able to make something bigger out of his childhood passion for landscaping. Kyle's understanding of landscape maintenance and installation is only surpassed by his desire to exceed client expectations.
Kyle holds a Bachelor of Science degree in Landscape Contracting with a concentration in Business from Pennsylvania State University. Kyle is a MD Licensed Tree Expert, Certified Fertilizer Applicator, and Certified Pesticide Applicator. Kyle also owns Garden Gate Landscaping.
In his free time he enjoys competing in marathons, half marathons, and duathlons. Kyle currently resides in Silver Spring, MD with his wife, Elizabeth, their children, Oliver and Ann, and the GreenSweep mascot, Chance.
---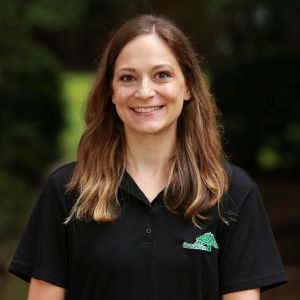 Lisa Greenwell, Vice President of Operations
Lisa joined GreenSweep in 2012, and, in her role, she manages several business functions to keep our company running smoothly. Lisa assists with strategic planning and large internal company advancement projects. She also handles client relations, vendor management, marketing, employee recognition, and other general administration. Before joining GreenSweep, Lisa held positions in client relations, program management, and communications.
Lisa earned her Bachelor of Science degree from the University of Maryland. She currently resides in Highland, MD with her family.
---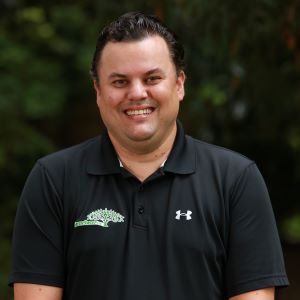 Jedd Narsavage, Vice President of Design & Development
Jedd rejoined the GreenSweep team in 2018 to lead efforts in landscape design and business development. Jedd helps navigate customers through the landscape design process – gathering ideas, reviewing budget, and finalizing a cohesive design – to meet each client's goals for their outdoor space. Jedd also spends time developing relationships with new commercial customers working to expand our network in the DC/Baltimore region especially in other market sectors like local municipalities and government projects. Prior to GreenSweep, Jedd worked for several large government contractors in landscape design, master planning, and project management. Jedd is excited to return to his roots and help grow our business.
Jedd studied Landscape Architecture at Cornell University and is a LEED Accredited Professional. Jedd resides in Baltimore, MD with his wife and two sons.
---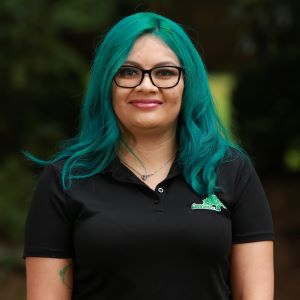 Karla Delgado, Finance Manager
Karla joined GreenSweep in 2018 and is likely the friendly voice on the end of line when you call our office. In her current position as Finance Manager, Karla assists with various administrative tasks, but her main focus is all bookkeeping-related functions, including accounts payables, accounts receivables, and payroll. One of Karla's most valued traits is her willingness to help out wherever is needed. Karla is bilingual, English and Spanish, which has been a huge asset in helping us communicate more effectively with our employees.
Karla currently resides in Bladensburg, MD with her family.
---

Amber Fox, Human Resources Coordinator
Amber joined GreenSweep in the fall of 2021 and brings 15 years of green industry experience serving as an administrative assistant, HR & Office Manager, and most recently Director of Human Resources. Amber will strengthen our HR procedures and recruitment efforts, help onboard new employees, and ensure our policies align with state and local employment laws. Amber enjoys driving initiatives that improve performance, growth, and employee engagement. Amber holds a bachelor's degree in Business Management from Antioch University-Midwest and an associate's degree in Business Information Systems from Sinclair Community College.
Amber resides in Dayton, OH with her husband, three daughters, and rescue pup, Hank.
---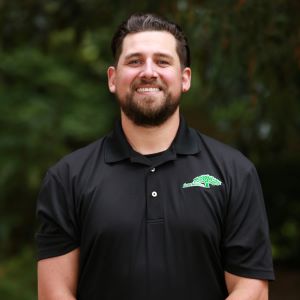 Alex Erinakes, Residential Account Manager
Alex is an Account Manager who joined our team in early 2021 and focuses primarily on assisting our residential customers. Alex spent the last several years with a landscaping company in Rhode Island and particularly enjoys opportunities to enhance landscaping for established maintenance clients. Alex has strong customer service skills and field experience which will aid him in his role with GreenSweep where he helps customers identify areas of improvement and ensures property maintenance contracts are upheld.
Originally from Rhode Island, Alex received his bachelor's degree from Curry College in Milton, MA and currently resides in Alexandria, VA.
---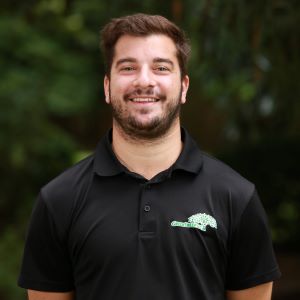 Matt Pizzola, Commercial Account Manager
Matt joined GreenSweep in summer 2021 and as an Account Manager, he will monitor crews and quality control on job sites, conduct site inspections, and meet with clients to discuss their landscaping and grounds maintenance needs. Matt holds a bachelor's degree from Ithaca College where he studied Business Administration and was a member of the football team. Life as a student-athlete has taught Matt how to stay disciplined and manage his time wisely, skills which are a huge asset in the fast-paced green industry.
Matt resides in Kensington, MD.
---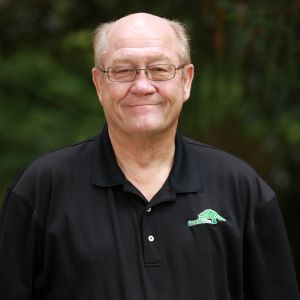 George Frazee, Commercial Account Manager
George joined the GreenSweep team in 2017. In his role, he manages our commercial accounts in Baltimore City and Baltimore, Howard, and Prince George's counties. George supervises field crews to ensure contract requirements are met and clients remain satisfied. George enjoys building relationships with customers and making sure we deliver on the GreenSweep Advantage. George brings over 30 years of experience in all facets of the landscaping industry, with a concentration in turf care and irrigation management. George obtained a bachelor's degree in Education from the University of Maryland and enjoys using this background to share his knowledge with others.
George is both a Certified Fertilizer Applicator and Certified Pesticide Applicator. George was born in Washington, DC and currently resides in Laurel, MD with his family.
---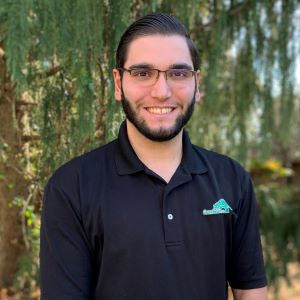 Grant Burruss, Commercial Account Manager
Grant joined the Greensweep team in winter of 2021. Grant comes to us with 5 years of green industry experience. He will monitor crews and quality control on job sites, conduct site inspections, and meet with clients to discuss their landscaping and grounds maintenance needs. Originally from Albania, Grant is studying to get his degree in Horticulture from Nova Community College.
Grant enjoys traveling and spending time with his friends and family. He currently resides in Annandale, VA with his wife and two children.
---
Hugh Beins, Fleet & Facilities Manager
Hugh joined GreenSweep in fall 2021 and in his role, Hugh will support the entire GreenSweep team to ensure all field operations are executed successfully. Hugh's main responsibilities include material procurement and deliveries, equipment inventory, parts and supplies inventory, and overall shop organization. Hugh's work at headquarters, preparing vehicles, equipment, and materials, allows operations to run smoothly. Prior to joining GreenSweep, he built playgrounds and renovated houses for a local construction company.
Hugh played football, basketball, and rugby at St. John's College High School and after high school he spent a year in Louisiana completing missionary work. Hugh resides in Kensington, MD.
---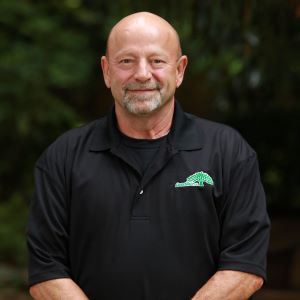 Bob Bailey, Mechanic
Bob joined the GreenSweep team in 2016. Bob manages our equipment maintenance & repairs, coordinating outsourced repairs and all truck maintenance to keep our fleet up and running smoothly. Prior to joining GreenSweep, Bob owned and operated his own small landscaping company for almost 15 years and held positions with other firms in the local region.
Bob is a veteran of the United States Air Force Reserve, Desert Shield, and Desert Storm. He lives in Silver Spring, MD with his family.
---