Add depth and dimension to your landscape by installing landscape lighting. At GreenSweep, our mission is to maintain and enhance the beauty, function, and value of your property. Landscape lighting can help achieve that.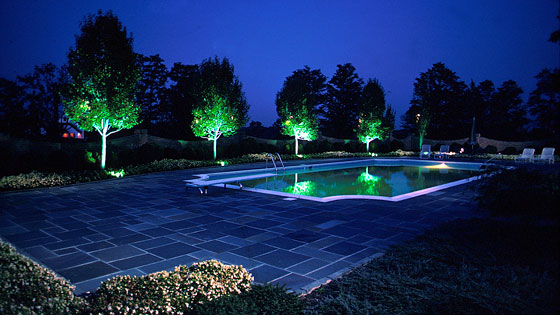 Beauty
Ambient lighting enhances the natural beauty of your property. Landscape lighting is an excellent way to highlight focal points such as specimen trees, water features, or architectural elements. Can you imagine a rippling pond accentuated by lighting to create a serene evening oasis? To maximize the effect, use a variety of lighting types – directional lighting, spotlighting, down-lighting, up-lighting – to create interesting shadows and silhouettes. In regard to the desired effect, a standard rule applies: you should see the effect of the light, not the source of the light. We spoke to Dan Law, Landscape Design Consultant at Garden Gate Landscaping, who shared "with careful placement of fixtures, only the theatrical effect is evident and not the glare of the source."
Function
While elevating the aesthetic of the landscaping is typically the reason an owner chooses landscape lighting, it is also a practical addition as well. Landscape lighting is a great way to improve safety and security. Lighting built into stairways or installed along sidewalks illuminates walking paths at night. Lighting can also be used to brighten entrance signs to a community, hotel, church, or school or mailbox planting beds. Well-lit properties are also discouraging to intruders!
Value
Landscape lighting allows you to further enjoy investments like a backyard patio or courtyard garden by extending usable time into the evening hours. In addition to your own perceived value and enjoyment of a well-lit space, landscape lighting can increase value and curb appeal when selling a property. In a Remodeling Impact Report by the National Association of REALTORS® Research Department (2018), 11% of REALTORS® suggested sellers add landscape lighting before attempting to sell a residential property and 16% of REALTORS® suggest the same for commercial properties.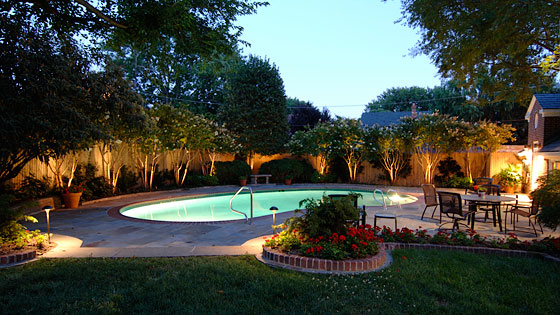 The technology and art behind landscape lighting has improved over the years. Landscape lighting is typically low-voltage and utilizes LED lamps which are long-lasting and draw little power. Low-voltage fixtures use a transformer to reduce a home's electrical current. The transformer may be equipped with a timer or photo-cell to control when fixtures are operational. An electrician may supply an interior wall switch to control power to turn lighting on or off as needed.
In addition to the options for LED lamps and timing and power controls, another feature available with landscape lighting is the ability to adjust color temperature ranges. It is important to consider the light color temperature as part of the overall aesthetic of a property. Commercial properties and more modern homes and gardens tend to cooler light temperatures. While neutral and warmer temperatures are common in classic residential settings. Color temperature can also be adjusted based on what is being lit – evergreens, blue-gray flagstones, or red brick pavers – to provide the most appealing look.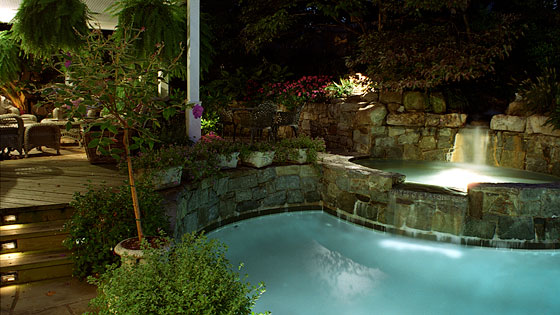 All of these features can be discussed as part of a new landscape design project in order to create an exquisite outdoor living space. If you have an existing landscaping you love, don't be afraid to inquire. A simple design installed by a trained professional will cause minimal impact to existing plant material but still achieve a sophisticated look. Garden lighting is very versatile and systems can be added to or adjusted as plants grow and mature or the landscape is modified.
Professional installation ensures high quality materials and installation and thus a superior end result. Professionals can fine-tune casting of light and ensure proper functionality to achieve the best atmosphere for your property. Let us know your landscape lighting goals and we can help determine the right solution to fit your vision.
To learn more about landscape lighting and how to add it to your property, contact us today!